Hi, my name is Ryan Powell and I am the guide and originator of the One Root Sacred Ireland Journey. I am so grateful for the opportunity to curate and guide this journey through the hills and valleys of SW Ireland. Here is a little about me and my background.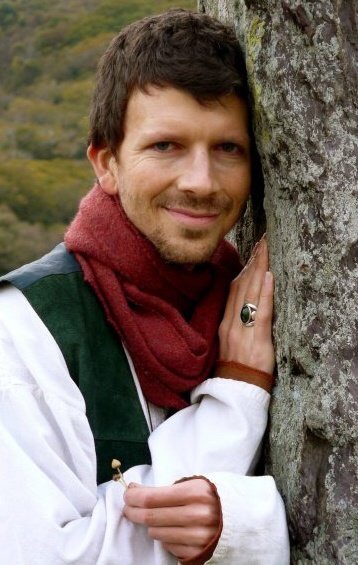 I was indoctrinated at birth into a lifetime love of Irish music by my father John who sang my brother and I the old ballads in his deep voice whenever he had the chance and a captive audience. I took up guitar and whistle at a young age and began to play ballads after my first visit to Ireland as a young teenager in 1986. During the early 1990's, I had the wonderful opportunity to live in Ireland for 6 months as part of a Bachelor's program with Lewis & Clark College and busked the streets of Galway and Dublin while studying James Joyce with Senator David Norris and absorbing the rich culture and music of the east and west of the country.
In the mid 1990's, I was one of the founders of Celtic Rock band Blind Rafferty which played all around the Pacific Northwest for 6 years and recorded two albums. Currently I offer solo concerts in Celtic and original music along with live looping and mythological storytelling and play in the Celtic roots group Hills & Hollows.
I am a lineage teacher of Qigong, Taiji (Tai Chi) and internal martial arts as taught by my Daoist teacher Master Zhongxian Wu. I hold regular classes and workshops in Portland, Oregon and weave these ancient Qigong practices into the One Root Sacred Ireland Journey.
Today, I weave together my study of Daoist philosophy, martial arts and energy cultivation with my love of Irish music, mythology and spirituality. I guide the yearly One Root Sacred Ireland journey to the SW of Ireland and orchestrate a deep and fun tour of the land which includes local storytellers and guides and daily health building Qigong practice.
I live with my wife Kristin and 8 year old son Cassan in Portland, Oregon.